The Town of Yarmouth will be featured as the starting harbour in a fishing game developed by MISC Games of Norway.
Press release from Astragon Entertainment
Fishing: North Atlantic
New location in Nova Scotia brings historic harbours and idyllic landscapes to the game
Canada, ahoy! Virtual fishermen will soon be able to leave the shores of Northern Norway and discover new coasts in the Canadian Maritime Province of Nova Scotia in Fishing: North Atlantic. The successor to the popular simulation game Fishing: Barents Sea by astragon Entertainment and Misc Games will be released in 2020 and provide fans of the series with new harbours and the impressive, vast scenery of Nova Scotia.
Beautiful coasts, idyllic landscapes, historic fishing villages – these characteristics not only make the province of Nova Scotia so unique and attractive to visitors from across the globe, they will also feature prominently in Fishing: North Atlantic to give players an impressive, new environment to explore. Developer Misc Games puts special emphasis on authentically designing the new Canadian game environment, so that the atmosphere, nature and architecture of Nova Scotia will be displayed as realistically and naturally as possible in the upcoming game.
The player's journey out onto the Atlantic Sea starts off the coast of the important fishery and ferry harbour of Yarmouth, Nova Scotia. A huge variety of fish species in the surrounding waters as well as its location right in the heart of the largest lobster fishing area world-wide make Yarmouth a profitable fishery hot spot not only in real life but also in Fishing: North Atlantic. Historical buildings and Victorian town houses also attract numerous visitors each year which makes tourism another key business of the town. This is the reason why players of Fishing: North Atlantic will also encounter the huge passenger ferry KAT at the harbour of Yarmouth. She serves as a significant tourism connection between the US and Canada.
Pam Mood, Town of Yarmouth Mayor, is delighted that Yarmouth will be part of Fishing: North Atlantic:
"We are excited to see our amazing fishing community of Yarmouth, Nova Scotia featured in Fishing: North Atlantic. Fishing in Yarmouth is not just an industry it's a way of life. We have a proud and storied tradition of seafaring. When MISC Games contacted us about their plans to make Yarmouth the starting port of the Canadian version of their very successful game series, we were tremendously excited! The coastline of Atlantic Canada features many wonderful fishing villages, so to be recognized in this manner is a special honour. The Town of Yarmouth wishes to thank MISC Games for involving our community and helping secure our place on the world map with this unique opportunity."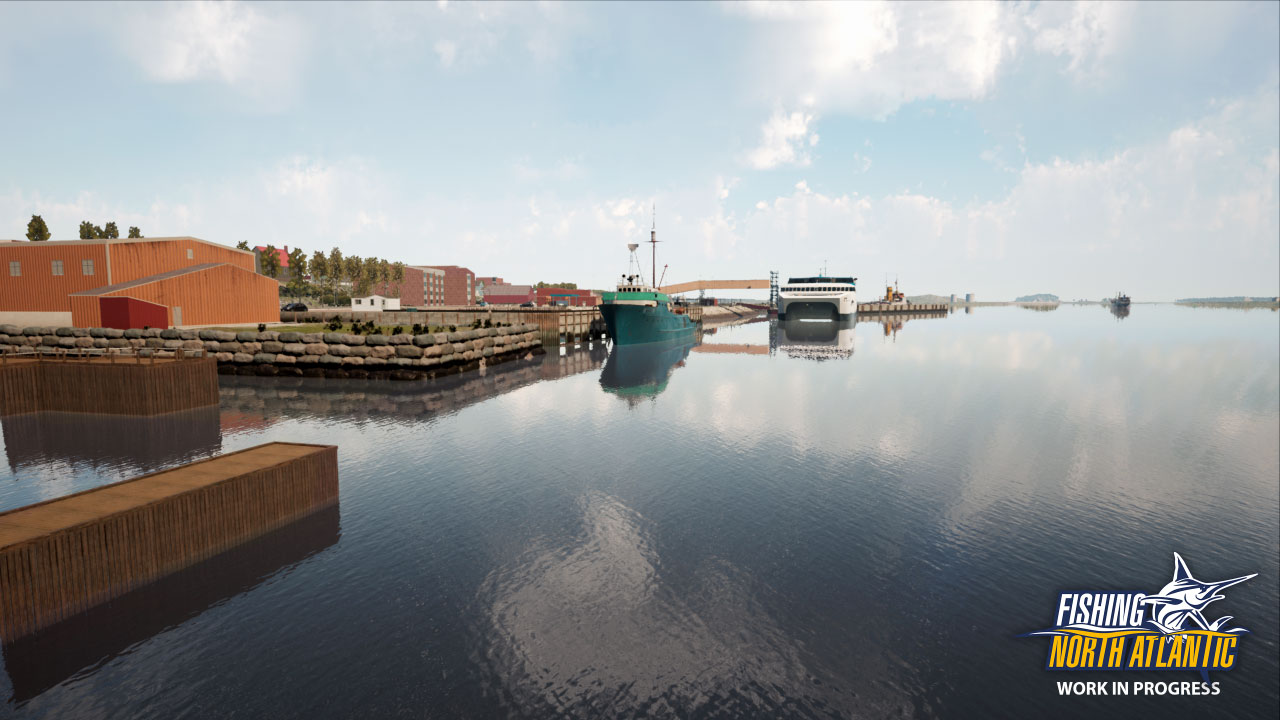 After exploring the starting harbour of Yarmouth, players can embark on a journey to discover the many other new realistic harbours of Nova Scotia in Fishing: North Atlantic. Along their way they will happen upon lots of rich fishing grounds for some lucrative catch. After reaching the harbours they will be able to sell their haul and buy new equipment as well as new ships, before heading out to the Atlantic Ocean past the dreamy coastlines of Nova Scotia.
Fishing: North Atlantic will be released 2020. More information about platforms, features and more to follow soon.
Visit Fishing: North Atlantic at:
Fishing: North Atlantic Website: https://fnagame.com/
Fishing: North Atlantic Facebook: https://www.facebook.com/fishingbarents/
Misc Games Twitter: https://twitter.com/MiscGames
Misc Games Instagram: https://www.instagram.com/misc_games/
Unreal, Unreal Engine, the circle-U logo and the Powered by the Unreal Engine logo are trademarks or registered trademarks of Epic Games, Inc. in the United States and elsewhere. All rights reserved.
Press contact:
Yvonne Lukanowski
Junior PR & Marketing Manager
Fon: +49 (0) 21 66 - 6 18 66 - 72
Fax: +49 (0) 21 66 - 6 18 66 - 20
E-Mail: This email address is being protected from spambots. You need JavaScript enabled to view it.
About astragon Entertainment GmbH
astragon Entertainment (founded in 2000) ranks among the leading independent games publishers in Germany. Our versatile product portfolio focuses on high-quality technical simulation games such as Construction Simulator, Farming Simulator or Bus Simulator, but also covers complex economic simulations and strategy games. The distribution of the Big Fish franchise (Mystery Case Files, Dark Parables, Grim Tales) completes our exciting product range. Games by astragon are available world-wide on many different platforms such as consoles, smartphones, tablets and PC. Please visit us for more information at http://www.astragon.de/en/.
About Misc Games
Misc Games (founded in 2013) is a game developer based in Stavanger/Norway. With a strong passion for video games, our aim is to develop high-quality technical simulation games such as our current project Fishing: Barents Sea. For more information about Misc Games please visit us at: https://miscgames.no