Agendas and Minutes Archive

Registration Form
The Town of Yarmouth is planning HUGE street parties for the last Sunday in July & August 12pm - 4 pm and we would like to see the entire community get involved!
As part of these parties, Main Street will be closed to vehicle traffic and open for people to walk, shop, eat, listen to music and have fun.
We invite you to get involved! Plan a fund raiser, offer an introductory activity, or set up an information booth about your organization. It's free & easy to participate. Remember no idea is a bad idea! It's your street, take it back and enjoy!
Please fill out the registration form below if you plan to be at any of the upcoming events. Thank you Yarmouth!
Contact
Drop off your registration form to Town Hall (400 Main Street) Main Floor Reception Drop Box or email This email address is being protected from spambots. You need JavaScript enabled to view it..
Food Vendors
It is up to individual vendors to ensure they have all other licenses/approvals in place from Food Safety from Departof Environment.
Contact Riley Simms:
This email address is being protected from spambots. You need JavaScript enabled to view it. or 902-742-8985 ext. 2
In Office: May 2019 - present
Steve is the youngest member to join Yarmouth Town Council after first winning a seat in the May 2019 by-election, and then cruising to his first full term with a win in the 2020 election. At the November 12th council meeting and swearing-in, Steve was elected Deputy Mayor.
A proud Yarmouthian, Steve has a strong connection with our youth and has worked at Yarmouth High for the last 15 years. Steve's community involvement includes being a founding member of the Jstrong Fund, Maple Grove School Advisory Committee, Restorative Justice, YCMHS Safe Grad, Yarmouth CoEd Softball League and volunteers when ever needed. A strong believer that the key to moving forward is working together with our strongest asset, the people in our community.
I promise to stay a humble and true community minded person who listens, working hard to represent the public's best interest.
Current Committee Appointments
Committee of the Whole
Events Committee
Lake George Watershed Advisory
Mariners Centre Expansion
Police Advisory Board
Public Transit Nominating Committee
Waterfont Development Corporation
Yarmouth & Area Industrial Commission
Yarmouth Recreation
Yarmouth Water Utility
Contact Information
Phone: (902) 746-3731
Email: This email address is being protected from spambots. You need JavaScript enabled to view it.
Brand Message and Standards
Yarmouth - On the Edge of Everywhere
BACKGROUND TO THE BRAND

Yarmouth is a remarkable town with a lot to offer the world.

Yarmouth was borne of pioneering entrepreneurs and risk-taking visionaries who carved out a place in the world for a small community on the southern coast of Nova Scotia.
Now, more than ever, we need to rekindle that entrepreneurial spirit to ensure our town has a future. How will we do this? By re-thinking how we think about Yarmouth. For example, it means taking perceived negatives about where we are and turning that perception into a positive. By looking differently at the town we love and marketing that difference to the world.
We have to reach beyond comfort zones and take careful and calculated risks. It means stepping outside the status quo and onto the edge…of everywhere.
You can see who we are in the simple but powerful design: the outline of a boat cutting through the water and charting a new course; nicely channeling our proud ocean-going heritage. Yarmouth has forever been linked to the sea and this design respectfully maintains that connection.
Some people look at the design element and see a flower in bloom, which is more than fitting. With everything being planned for the future of this great town, Yarmouth can truly be said to be in bloom!
French Tagline Translation (2020)
In December of 2020 the Town announced a French translation of its tagline "On the Edge of Everywhere" in recognition of its deep Acadian roots. The translated phrase is "Partout à partir d'ici" (PARTOUT À PARTIR D'ICI). Read the press release here: https://www.townofyarmouth.ca/town-of-yarmouth-recognizes-acadian-roots.html
BRAND STANDARDS
A copy of the Town of Yarmouth Brand Standards can be found in the PDF document attached below.
Please note: any use of the Town brand without written consent from the Town of Yarmouth may result in legal action. If you wish to request specific branding materials for use, including logo files in various formats, please contact:

Mike Carter
Communications Coordinator
Town of Yarmouth
Office: (902) 742-2521
Mobile: (902) 746-3167
Email: This email address is being protected from spambots. You need JavaScript enabled to view it.


Smart City Ideas Challenge
Are you ready to vote? You gave us some great ideas to work with and we have narrowed it down to six ideas. The top two ideas that receive the most votes will be brought to Council to decide which will form the basis of the Town's application for the Infrastructure Canada's Smart City Challenge. Voting ends March 16, 2018. Please visit getinvolvedyarmouth.ca website to vote!
The Town of Yarmouth is looking for your ideas; is there something you would like to change or improve about our community? We want to hear from you.
What?
The Smart City approach means achieving meaningful outcomes for residents through the use of data and connected technology. This approach can be adopted by any community, big or small.
Why?
The Government of Canada has issued a Smart City Challenge and is accepting application for communities for meaningful, measurable, projects that reflect the needs of the community and are explained within the context of a "smart city approach". Winning applications will receive the funding to implement their project. The following prize opportunities are available:
One prize of up to $50 million - Open to all communites, regardless of population
Two prizes of up to $10 million each - Open to all communities with populations under 500,000 people
One prize of up to $5 million - Open to all communities with populations under 30,000 people
For more information on the Smart City Challenge visit the Impact Canada website.
Who?
Anyone can submit an idea! The Town is accepting all ideas that contibute to improving the community for residents. Each idea should touch on one of the following themes:
Resident Welfare - help the community to feel safe and secure.
Earn a Good Living - provide opportunity for residents to seek fair employment.
Move Around my Community - connect important community destinations.
Enjoy a Healthy Environment - improves the overall health of those in the Town.
Be Empowered and Included in Society - help those most vulnerable find a voice within our neighbourhood.
Live an Active and Healthy Lifestyle - provide healthy opportunities to citizens.
How?
Ideas can be submitted online through the Town of Yarmouth's getinvolvedyarmouth.ca website.
Ideas will then be evaluated to ensure they meet the Smart City Challenge Competition criteria. Those that qualify will then be posted and the community will be invited to vote. The idea that receives the most votes will then form the basis of the Town's application for the Infrastructure Canada's Smart City Challenge.
When?
The Town of Yarmouth is currently accepting "Smart City" ideas from the public. Ideas will be accepted until Friday, February 9th, 2018.
The Town of Yarmouth will select the ideas that best meet the competition criteria. The public will be invited to vote on their favourite idea.
Where?
Ideas should focus on the Town of Yarmouth; however, any community structure is eligible for this competition, so if you have a good idea that involves the Town as well as another community, please share it!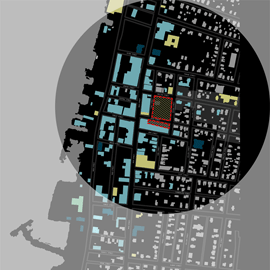 In 2010, Yarmouth Town Council adopted the Yarmouth Downtown Blueprint Plan, which lays out a 20-year vision to revitalize the downtown.
The plan, developed by Ekistics Planning and Design, envisions that by 2030 downtown Yarmouth will be the cultural hub of western Nova Scotia. Residents and tourists alike will be drawn to downtown for its culture and history. They will stroll streetscapes where a blend of heritage and modern buildings will be home to galleries, theatres, boutiques and artisans workshops. They will be able to see a play, hear a concert, enjoy a dance troupe performing at one of several outside performance venues. One-of-a-kind specialty shops will be clustered around a major new arts centre that will foster creativity and the arts.
In 2017, Town Council's Strategic Priorities renewed that call for an arts and culture centre to be located in the downtown, in order to establish a major new public destination for the downtown to rally around.
The project space is adjacent to the Collins Heritage Conservation District, the Art Gallery of Nova Scotia and Alma Square. It will be a dynamic space dedicated to arts, cultural engagement, and commerce with additional publicly accessible space for community gatherings.
MacKay-Lyons Sweetapple Architects Limited
The Town of Yarmouth hired MacKay-Lyons Sweetapple Architects Limited to work with local representatives of various cultural and arts groups while creating a Vision Concept for the project. MacKay-Lyons Sweetapple architects, landscape architects, planners and urban designers have been offering a unique mix of interdisciplinary design services for over 30 years to institutions, federal and provincial government agencies, municipalities, developers and not-for-profit corporations. MacKay-Lyons Sweetapple's experience will assist in creating an important space for the people of the Town of Yarmouth and its region.
Get Involved - We want to hear from you.
Your input is important to us. To find out where we are in this project's lifecycle, and to particpate in the consultation process, please visit and register at Get Involved Yarmouth site: www.getinvolvedyarmouth.ca
Subcategories