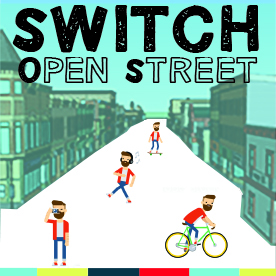 The Town of Yarmouth Planning and Recreation Departments have teamed up to bring a street party to Main Street.
Switch Open Street is a re-occuring event where volunteers take back local streets transforming them into safe, fun, festive and car-free family spaces.
Everyone is welcome at SWITCH, with the exception of cars. Whatever you can imagine will happen in our streets. Residents will be encouraged to join the party for FREE and participate in planned activities, classes, shoppng, food, music, entertainment and much more!
SWITCH Open Street events are planned for the last Sunday of each month. This year we will be trying out themed SWITCH events. Vendors who are interested in participating are encouraged to complete a pdf REGISTRATION FORM (684 KB) and contact the Planning Office at 902-742-1505. Extra love to those who organize their table or activity to support the theme of the event.
Main Street will be closed from Parade Street to Cliff Street however, traffic will still be able to flow on Parade Street and Cliff Street.
The following SWITCH Open Street Events are coming up:
August 28th, 2016 End of Summer Beach Party.
Recreation will be hosting a beach ball bash. Any organizations interested in organizing a water balloon fight?!?
September 25th, 2016 Battle of the Bands.
All the fun of a normal SWITCH with extra invitation to all our local bands. The public will be invited to vote for their favourite band.
October 30th, 2016 Halloween Harvest.
Everyone is invited to wear their costumes and participate in this spooky celebration. Recreation will be hosting a pumpkin carving contest, call 902-742-1505 to register.
Please remember this is a first come first serve event and set up is at 11:00 am.
· No permits are required, everyone is covered under the Town umbrella however the vending terms and conditions still have to be followed. Any other permits (i.e. food handling) is the responsibility of the individual / Organization to obtain
· Set up is at 11:00 am to 12 pm. This is a first come first serve event.
· Clean up is 4:00 - 5:00 pm. Street will remain closed during that time.
· Individual / Organizations are responsible for your own garbage/waste and should be taken with you.
· Individual / Organization have to provide all required items themselves.
· Access to power (if needed) is to be arranged by the organization/individual. You can bring a generator/power supply or ask a business nearby.
· The event will take place rain or shine.
ATTENTION FOOD VENDORS:
While the Town has provided the Vendors license to blanket the entire group, it is up to individual vendors to ensure they have all other licenses/approvals in place i.e. Food Safety from Depart of Agriculture, Alcohol license from the Alcohol and Gaming authority etc. Contact Jerry Young:

This email address is being protected from spambots. You need JavaScript enabled to view it.
Food Vendors are encouraged to have healthy eating options available as per the Town of Yarmouth's Healthy Eating Policy www.townofyarmouth.ca
We can't wait to party in the street with you.


For more information check out the pdf SWITCH BROCHURE (799 KB) or the pdf MERCHANTS INFORMATION SHEET (884 KB) .
ROUTE MAP