Events under 'Community Events'
Friday, June 02, 2023 10:00 am - Sunday, June 04, 2023 5:00 pm
This event does not repeat
Get ready for a fun-filled weekend of gaming, cosplay, and geeky goodness! Y-CON returns in 2023 June 2nd – 4th at the Rodd Grand Hotel & Convention Centre in beautiful Yarmouth, Nova Scotia.
Website: http://yarmouthcon.com/
Friday, June 09, 2023 11:00 am - 1:00 pm
This event does not repeat
Cenotaph 100: Join us in remembrance.
Did you know the bronze soldier that stands guard atop the Yarmouth War Memorial is turning 100? On June 9th we will be honouring this historic milestone with a rededication ceremony. Be part of recreating that moment 100 years ago when thousands turned out for its unveiling.
WHEN: Friday, June 9th, 11 am
WHERE: Yarmouth Cenotaph, 405 Main Street
Main Street will be closed from Public Lane to Parade Street for the duration of the ceremony. The talented production crew of MC Media will livestream the event at mcmedia.stream and also here on the Town of Yarmouth Facebook page.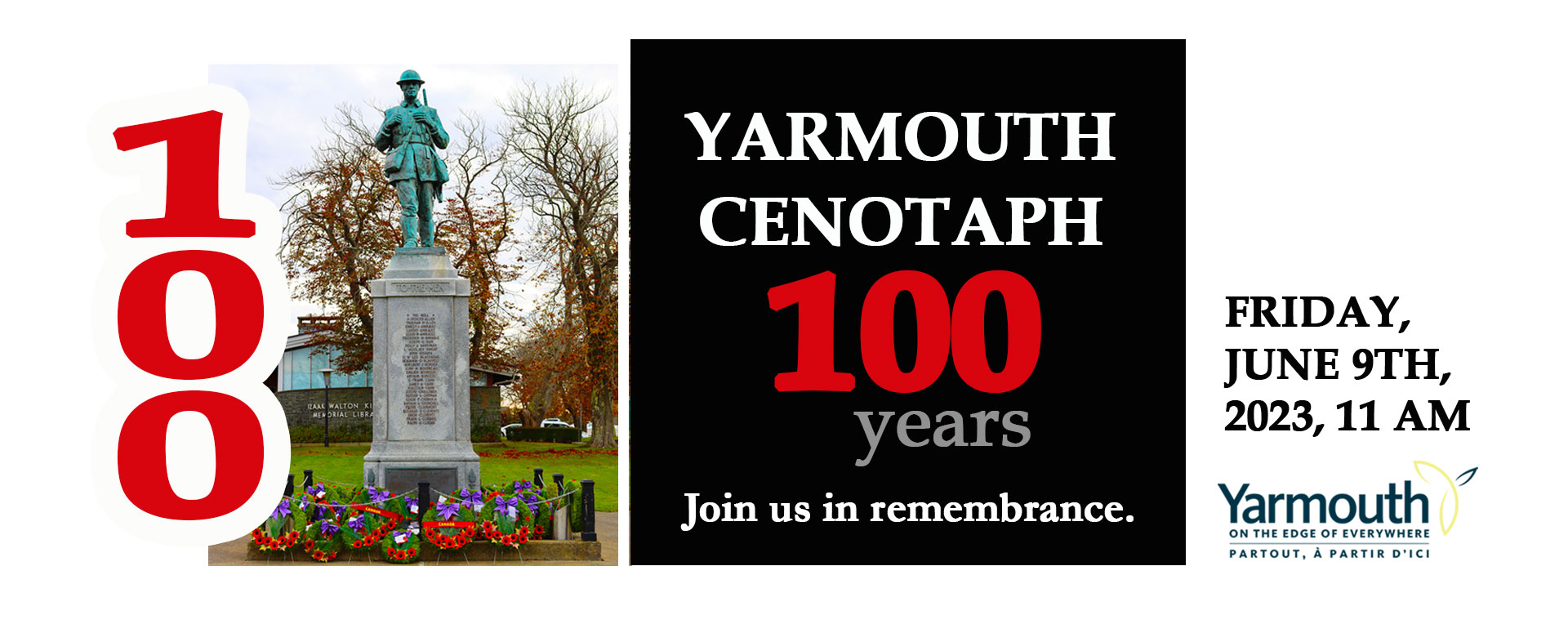 Saturday, June 10, 2023
This event does not repeat
Yarmouth Craft Beer Festival Returns in 2023!
Join us June 10th at the Rodd Grand Hotel for the return of the Yarmouth Craft Beer Festival. More details to be revealed soon!
Rodd Grand Hotel & Convention Centre
417 Main Street, Yarmouth, Nova Scotia B5A 1G3 Canada
Website: https://www.mileeast.com/yarmouthcraftbeer
Friday, July 07, 2023 4:00 pm - Sunday, July 09, 2023 6:00 pm
This event does not repeat
Join the Rotary Club of Yarmouth, July 7 – 9th, as we bring the ever-popular Ribfest back to Yarmouth. The smell of BBQ'ed ribs, fantastic food vendors, a kid's entertainment zone and the sounds of music from local bands and artists are all sure to draw you in!
The Yarmouth Rotary Ribfest is family-oriented fun for all ages event. Some of North America's greatest rib teams are coming to Yarmouth to compete for top awards.
The essence of Rotary is to give back to the community and this year funds raised will go to support our various initiatives locally and internationally.
Ribfest is free to attend; we encourage all attendees to provide a donation at the gate.
Yarmouth Rotary Ribfest has been made possible from the strong support from our community and local business sponsors and many volunteers.
Friday, July 7, 2023 to Sunday, July 9, 2023
Free - Donations Encouraged
Yarmouth Mariners Centre
45 Jody Shelley Drive, Yarmouth, Nova Scotia B5A 4R3
Website: https://www.yarmouthribfest.com/
Wednesday, July 12, 2023 9:00 am - Sunday, July 23, 2023 10:00 pm
This event does not repeat
Join us in a celebration of life by the sea.
Yarmouth's Seafest is an annual Celebration of Life By The Sea. It has spanned over three decades since the inaugural festival in 1979. Seafest is a Nova Scotia Signature Festival that takes place in July. Many of the events featured in the first celebration such as the Rum Running Races and Street Parade are still a popular part of today's Seafest traditions and these are enhanced with the addition of the Parade of Lights, Children's Parade, Mackerel Toss, and many more.
Wednesday, July 12, 2023 to Sunday, July 23, 2023
90 Water St, Yarmouth, Nova Scotia B5A 4K3 Canada
(902) 815-8997

This email address is being protected from spambots. You need JavaScript enabled to view it.
Friday, July 14, 2023 5:00 pm - Saturday, July 15, 2023 10:00 pm
This event does not repeat
The Roaring 20's Antique Auto Club is excited to bring back the Yarmouth Car Show this July! Featuring antique, classic, custom, and special interest vehicles and motorcycles. Car cruise to take place Friday, July 14th with the car show in downtown Yarmouth on Saturday, July 15th. If you love cars, you'll love this event!
Friday, July 14, 2023 to Saturday, July 15, 2023
Downtown Yarmouth - Main Street
Yarmouth, Nova Scotia
This email address is being protected from spambots. You need JavaScript enabled to view it.
Wednesday, August 02, 2023 9:00 am - Saturday, August 05, 2023 10:00 pm
This event does not repeat
Since opening its doors to the public over 160 years ago, the Western Nova Scotia Exhibition has become a must-see destination for people all over the Yarmouth area. We offer top-of-the-line entertainment services for everyone to enjoy. Whether you're planning a day trip with your family, or are coming with friends, we give visitors of all ages the chance to enjoy themselves in a fun-filled environment.
Wednesday, August 2, 2023 to Saturday, August 5, 2023
Yarmouth Mariners Centre
45 Jody Shelley Drive, Yarmouth, NS B5A 4R3
(902) 742-8222

This email address is being protected from spambots. You need JavaScript enabled to view it.
Saturday, August 05, 2023 6:00 pm - 9:00 pm
This event does not repeat
A visual, musical, theatrical and culinary experience at the Yarmouth County Museum.
Come see the Museum like never before!
Tickets required:
$40/person (Includes: music, food samples, presentations, escape box, exhibits, photo slideshows and more!)
website: https://www.yarmouthcountymuseum.ca/event-details/through-the-lighthouse-lens-soiree
Friday, August 11, 2023 5:00 pm
This event does not repeat
Mark your calendars for the last three weekends of August, 2023. This summer the waterfront will see performances once again on the following dates:

August 11-13, August 18-20, and August 25-27.
Friday, August 11, 2023 to Sunday, August 13, 2023
Yarmouth Waterfront
90 Water St, Yarmouth, NS B5A 1K9
(902) 742-3368

website: http://coalshedmusicfestival.com/index.html
Sunday, October 01, 2023
This event does not repeat
Sunday, October 1, 2023. Starting at 9am.
Explore Yarmouth's Heritage district with a family friendly, all abilities fun run. Choose from a 2.5km or 5km route and join your friends for a fun morning in downtown Yarmouth. Refreshments to follow the event. Can't make it in person, there will also be a virtual option.
Registration required.
Registration fee: $25 until June 30, $35 July 1-September
website: https://fb.me/e/1c38GNIXe
Thursday, November 02, 2023 10:00 am - Sunday, November 05, 2023 11:47 pm
This event does not repeat
For the first year since 2015, Nova Scotia Music Week (NSMW) returns to Yarmouth/Kespukwitk from November 2-5, 2023. Now in its 26th year, NSMW and Music Nova Scotia bring together artists, fans, and music industry from across Nova Scotia and around the globe to experience the best talent the province has to offer.
For more details including ticket and pass information, please visit: https://www.yarmouthandacadianshores.com/en/things-to-do/nova-scotia-music-week-2023/