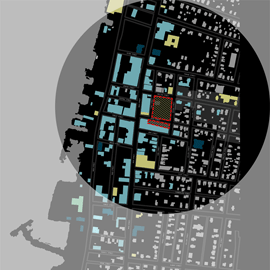 In 2010, Yarmouth Town Council adopted the Yarmouth Downtown Blueprint Plan, which lays out a 20-year vision to revitalize the downtown.
The plan, developed by Ekistics Planning and Design, envisions that by 2030 downtown Yarmouth will be the cultural hub of western Nova Scotia. Residents and tourists alike will be drawn to downtown for its culture and history. They will stroll streetscapes where a blend of heritage and modern buildings will be home to galleries, theatres, boutiques and artisans workshops. They will be able to see a play, hear a concert, enjoy a dance troupe performing at one of several outside performance venues. One-of-a-kind specialty shops will be clustered around a major new arts centre that will foster creativity and the arts.
In 2017, Town Council's Strategic Priorities renewed that call for an arts and culture centre to be located in the downtown, in order to establish a major new public destination for the downtown to rally around.
The project space is adjacent to the Collins Heritage Conservation District, the Art Gallery of Nova Scotia and Alma Square. It will be a dynamic space dedicated to arts, cultural engagement, and commerce with additional publicly accessible space for community gatherings.
MacKay-Lyons Sweetapple Architects Limited
The Town of Yarmouth hired MacKay-Lyons Sweetapple Architects Limited to work with local representatives of various cultural and arts groups while creating a Vision Concept for the project. MacKay-Lyons Sweetapple architects, landscape architects, planners and urban designers have been offering a unique mix of interdisciplinary design services for over 30 years to institutions, federal and provincial government agencies, municipalities, developers and not-for-profit corporations. MacKay-Lyons Sweetapple's experience will assist in creating an important space for the people of the Town of Yarmouth and its region.
Get Involved - We want to hear from you.
Your input is important to us. To find out where we are in this project's lifecycle, and to particpate in the consultation process, please visit and register at Get Involved Yarmouth site: www.getinvolvedyarmouth.ca