As part of the review public consultation process eight areas of interest were identified that require special planning policies to support their direct needs. For more information check out the MPS Project update memo on pdf Area of Interest (92 KB) and episode 6 and episode 7 of the podcast "Planning on the Edge". Each area of interest has a statement of interest and any new development that would like to be streamlined through the site approval process must meet the requirements of the statement. To find out more about statements of interest and site approval check out the discussion paper on community pdf statements of interest (4.51 MB) .
Starrs Road Commercial
Generally the goal is to ensure that the Starrs Road commercial area becomes more physically attractive and economically vibrant by:
Allowing greater intensity of use in established areas;
Promoting beautification programs; and,
Instituting new zoning requirements that reduce lot sizes and smaller setbacks for secondary retail uses, and encourage the creation of a more walkable area.
Downtown Commercial
The goal is to ensure that the Downtown Central Business District remains physically attractive and economically vibrant by:
Limiting the establishment of new business and professional offices to the Downtown area, in particular, the Downtown Commercial (C-1) zone and the Waterfront Commercial Industrial (WCI-5) zone;
Promoting the efficient use of existing public parking facilities and the development of new parking facilities in order to support existing and new commercial activities; and,
Promoting medium and high density residential development in the Central Business District.
Residential Area
The goal is to ensure that residential development is cost effective and makes good use of existing infrastructure while respecting the architecture of the area by:
Allowing for flexible lots sizes and a wider range of residential uses; and,
Ensuring new developments are compatible with adjacent properties.
Institutional Buildings and Uses
The goal is to ensure that existing institutional uses and buildings remain economically viable by:
Permitting start up business to share institutional facilities; and,
Allowing for the repurposing of existing institutional buildings.
\
Seasonal Retail Uses (Vendors & Tourism)
The Downtown Commercial area is the heart of the Town and it is vital that it be kept as vibrant as possible. It is essential that as many activities as possible be available in this area in order to attract people to the Downtown. The goal is to encourage and support street vendors and canteens to contribute to the livelihood of the Downtown by:
Permitting and encouraging seasonal retail uses in the Downtown and Waterfront areas; and,
Supporting vendor activity through a comprehensive Vendors By-law
Waterfront Mixed Use Area
The goal is to expand development options in areas that are not suitable for water related industry and stimulate growth by:
Permitting mixed use development;
Collaborating with the Yarmouth Waterfront Development Committee; and,
Taking a proactive stance, reaching out and inviting development to the waterfront.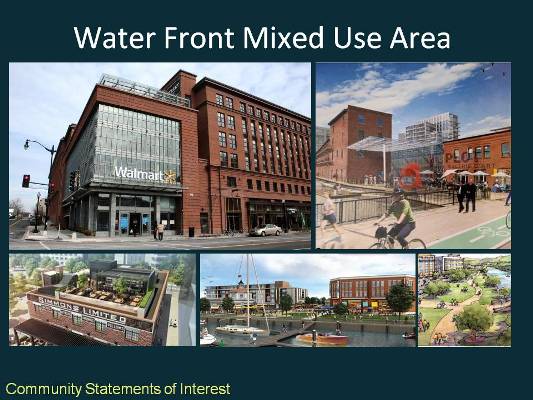 Large Mixed Areas
The goal is to control and direct future residential expansion creating healthy and safe mixed use communities by:
Developing concept plans;
Directing growth the South East Quadrant of Town and South of Starrs Road; and,
Expediting the development process through site plan approval.